Promoting healthy grief
September 16, 2020
The REACH Institute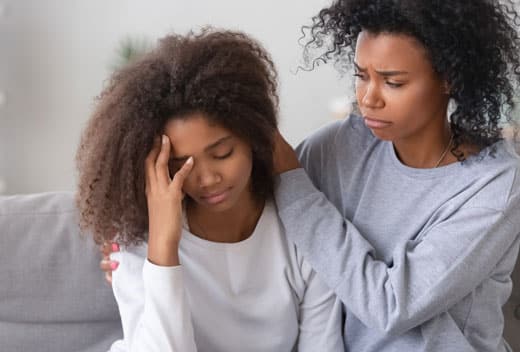 COVID-19 has changed the way children experience the death of a loved one. Although difficult under any circumstance, bereavement is even harder when mourners can't gather. Barriers to comforting mourning rituals and supportive social communities can make it harder for children to grieve in healthy ways, while increasing the risk for maladaptive grief reactions.
Without intervention, maladaptive grief reactions can lead to long-term problems including persistent difficulties with functioning at school, at home, with friends, and in romantic relationships. Over the long term, if not alleviated, these difficulties can cascade forward into more severe outcomes: failing grades, reduced likelihood of graduating from high school and of post-secondary school success, and reluctance to marry and form stable families.
In a REACH Institute webinar in August, Christopher Layne, PhD, faculty member of the REACH program Child/Adolescent Training in Evidence-Based Psychotherapies and program director of education in evidence-based practice at the UCLA/Duke University National Center for Child Traumatic Stress, talked about a new psychiatric disorder he expects to be added to DSM-5-TR within the next year: prolonged grief disorder.
The draft criteria for diagnosis of prolonged grief disorder start with the death of a loved one, followed by an intense grief reaction that causes significant distress or impairment. Specific symptoms may include identity disruption, intense emotional pain, numbness, and loneliness, among others.
Dr. Layne outlined a framework he and his colleagues have been developing for conceptualizing grief reactions following bereavement. Multidimensional grief theory consists of three primary domains of grief reactions:
Separation distress

 

is yearning or longing to be physically reunited that stems from psychological attachment to the person who died.
Existential or identity distress

 

stems from disruptions in meaning-making systems occasioned by the loved one's death. A personal existential or identity crisis may include feeling lost, as if part of the mourner died with the deceased person, or as if life has no purpose and there is nothing to live for.
Circumstance-related distress

 

is connected to the manner in which the person died.
This strengths-based model proposes that most bereaved children and adults find comforting, adaptive ways to cope with the central challenge of each grief domain. The best available evidence indicates that between 10% and 15% of bereaved youth experience clinically significant maladaptive grief reactions that can seriously impede their ability to function and maintain adaptive developmental progression.
According to multidimensional grief theory, the particular dimensions of grief reactions that predominate in a given patient are influenced by such factors as their developmental stage, risk factors, and culture, along with external factors including the well-being and functioning of surviving caregivers.
There is some evidence that younger children are more likely to experience separation distress, for example, wishing to be physically reunited with Grandad.
Teens, whose developmental tasks center on identity development, may be more likely to experience existential or identity distress. For example, they may feel lost without Grandad's anchoring presence in their lives — especially if he played a major role in raising them.
Circumstance-related distress may be prominent when Grandad died violently or tragically, for instance, if he contracted COVID in a supported living facility where the family believes that disease exposure could have been prevented.
Careful and empathetic listening can often reveal which dimensions of distress are most prominent at a given time. Providers can use the patient's own language to reflect their understanding and gently probe more deeply: "It seems that you are feeling lost without having your grandfather physically there in your life. Would you say that this feeling of being lost is affecting your schoolwork or your friendships?"
Elizabeth Wallis, MD, faculty member of the REACH program Patient-Centered Mental Health in Pediatric Primary Care, points out that primary care providers (PCPs) are uniquely positioned to help young patients with grief. "We have longstanding relationships with families. We may even grieve with them. And families are most likely to come to us first when there's a problem."
Dr. Layne and Dr. Wallis both point out that grief may surface in somatic symptoms or problematic behavior.
"It's important to talk to families about normal grieving," said Dr. Wallis. For example, younger children may regress temporarily to an earlier developmental stage, perhaps becoming more clingy. Providers can also guide families through developmentally appropriate ways to talk about death and model age-appropriate strategies in talking with young patients.
Dr. Wallis emphasized that PCPs must be able to recognize the signs of unhealthy or prolonged grief. (See Resources below.) Patients who display these symptoms should be referred to mental health services if possible.
"I plead with you," said Dr. Layne, "to think through the role you can play in not letting bereaved kids who are in need fall through the cracks."
Resources
Learn more about prolonged grief disorder and multidimensional grief theory by viewing Dr. Layne's full presentation Evidence-Based Assessment of Bereavement and Grief in the Era of COVID-19.
The full description of the proposed addition of prolonged grief disorder to DSM-5, including diagnostic criteria, is on the American Psychiatric Association website.
An assessment for prolonged grief disorder will be developed after the condition is included in DSM-5-TR. In the meantime, Dr. Layne recommends these screening tools:
Dr. Layne also recommends this paper on racial disparities in bereavement: Umberson, D. (2017). Black deaths matter: Race, relationship loss, and effects on survivors. [PDF] Journal of Health and Social Behavior, 58(4), 405-420.