New AAP policy on mental health in pediatric care
November 13, 2019
The REACH Institute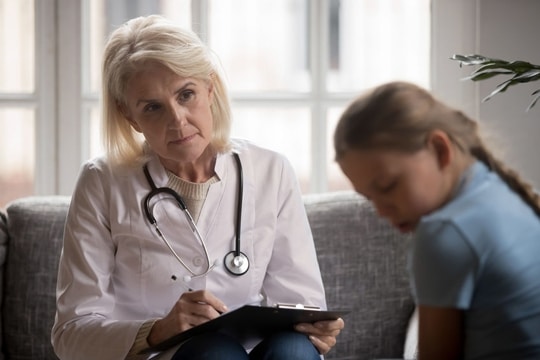 The American Academy of Pediatrics (AAP) has released a new policy and an accompanying technical report on mental health competencies for pediatric clinicians. REACH faculty member Cori Green, MD, MS, is a lead author of both documents.
We asked Dr. Green, director of behavioral health education and integration at Weill Cornell Medicine in New York City, what the AAP policy and technical report mean for alumni of the REACH program Patient-Centered Mental Health in Pediatric Primary Care.
"I hope they'll be excited to see that what is being endorsed by AAP is essentially what they were taught in their REACH training," Dr. Green said. In the technical report, the REACH course is described as a promising practice in continuing medical education.
Many of the competencies in the new AAP policy have long been the core of REACH training. Dr. Green cited the policy's emphasis on clinical skills in screening, diagnosis, and treatment of common mental health conditions, particularly ADHD, depression, and anxiety.
The communication skills emphasized in REACH training—a clinician's ability to establish relationships with families based on trust and empathy—also figure prominently in the policy. "We're using the term 'common-factors' communications skills for these evidence-based communications styles, which come from motivational interviewing," Dr. Green said.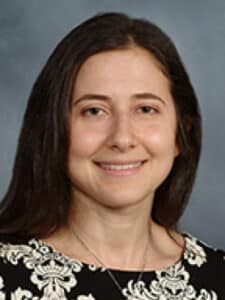 Research shows that psychological healing takes place in patients' relationships with their therapists. "Teaching these same skills to pediatric clinicians can alleviate suffering among our young patients," said Dr. Green (pictured at right). "Just as we teach in REACH, the first step is engaging the family."
Another important set of clinical skills in the AAP policy is "common-elements approaches"—brief interventions clinicians can implement in primary care to alleviate clusters of related symptoms. For example, a cognitive-behavioral approach to fearfulness and related avoidance behaviors would involve gradual exposure to the feared environment. (See Building a Team to Counter School Refusal, October 2019.)
"Patients with moderate to severe anxiety should see a cognitive-behavioral therapist," Dr. Green acknowledged. "However, the hope is that a pediatric clinician who knows the basics of CBT can suggest an intervention for mild anxiety that could help prevent more serious symptoms later."
Dr. Green pointed out additions to the policy from the version published in 2009. "There's new emphasis on promotion and primary prevention, particularly in light of the research on the early effects of adverse childhood experiences, trauma, and toxic stress," she said.
The new policy also has a renewed emphasis on suicide prevention and risk assessment in light of the alarming rate of suicidality among children and adolescents.
In addition to clinical skills, the policy recommends practice enhancements such as a team approach to patient and family support. Several recommendations for primary care practices focus on establishing systems to support mental health care. The strategies range from training office staff to support patients with mental health disorders to the choice of electronic health record systems to routines for regularly gathering psychosocial histories along with physical histories.
Finally, Dr. Green emphasized AAP's inclusion of systemic issues in the policy. "Primary care providers are not getting reimbursed appropriately for mental health care," she noted. The AAP policy sees moves toward value-based (rather than volume-based) payment and toward integrated healthcare teams as promising trends.
In the meantime, the technical report suggests that pediatric practices advocate with insurers, use appropriate coding and billing practices for mental health care (see 5 Tips on Coding for Mental Health in Primary Care, April 2019), participate in development of value-based payment systems, and advocate for appropriate mental health services in their local communities.
Resources
AAP published the updated policy, Mental Health Competencies for Pediatric Practice, and the technical report, Achieving the Pediatric Mental Health Competencies, in the November 2019 issue of Pediatrics. You might like to start with Dr. Green's synopsis of key issues in both documents.