Helping AAPI patients cope with racism
April 29, 2021
The REACH Institute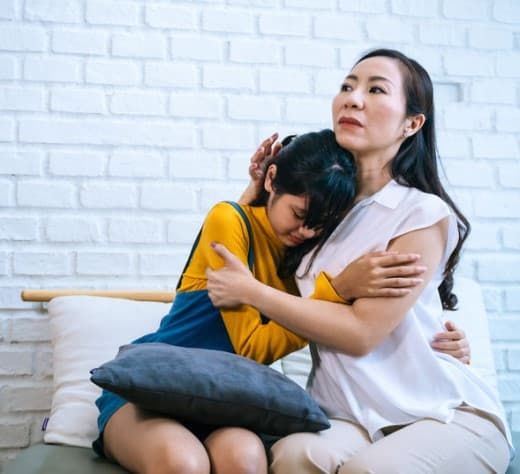 Discrimination and hate crimes against people of Asian American and Pacific Islander (AAPI) descent have risen during the COVID-19 pandemic. You may be wondering how you can help your AAPI patients cope with feelings that arise from experiences of racism.
For suggestions, we talked with REACH faculty member Janet Chen, MD, a child and adolescent psychiatry expert at New York-Presbyterian Hospital.
Her first suggestion was to address patients' feelings directly, especially if you practice in a community where AAPI people have been attacked or otherwise targeted.
You can start by asking open-ended questions like "How are you doing? What are you feeling about these events in the community? Is there anything you want to talk about?"
Some children will say they are fine and don't have any concerns. Whether that's true or not, noted Dr. Chen, you have sent a vital message: You are there to listen if the patient wants to talk.
If the child does open up, the first support you can offer is validation. You can say, for example, "I get it. Listening to the news and knowing people are being attacked must be very upsetting."
As you acknowledge the patient's concerns, ask probing questions to determine the extent to which these feelings are affecting their life. The answers may lead you to administer one of the anxiety or depression screening tools you learned about in your REACH training.
Another thing you can do is to offer age-appropriate resources. For example, the books in the New York Times list Dr. Chen recommended are categorized by whether they are appropriate for children or teens.
For most patients, you will also want to involve the parents or caregivers, with the child's permission. That involvement becomes mandatory if you want to recommend mental health care.
"Providers need to understand that there's a lot of stigma around mental health in many AAPI communities," said Dr. Chen. "For the patient to bring up their concerns in the first place takes a lot of courage. Their families might not be modeling that openness with them."
"PCPs are in a good position," she went on to say. "They have an ongoing relationship with the child, often since birth. They may be the first ones to hear these concerns. That's why it's so important to ask these questions."
In dealing with caregivers, Dr. Chen emphasized caution. "Go slow and steady," she said. "You have to gain the parents' trust first. It may be hard for them to see why their child brought up this issue."
For starters, understand that the reason caregivers avoid mental health concerns is not that they don't care. "This is new stuff for them!" said Dr. Chen. "Dealing with feelings, talking about mental health–these things are foreign to them, so it's hard to talk about."
Then you can simply explain what you have heard from the child–for example, that he doesn't feel safe–and suggest that the parents set aside some time to listen to the child's fears. Emphasize that they don't have to know what to do about the child's feelings; they just need to listen.
Dr. Chen noted that it may take more than one visit to gain parents' trust even for this low level of support. That's why your ongoing relationship with the family is vital.
At first, you might suggest simply that a caregiver spend five minutes at a time to listen to the child. Perhaps another time you can suggest a specific strategy, such as asking how the child feels about a news story or an event in the local community.
"That's where you have to start," emphasized Dr. Chen, "with gaining the family's trust. Maybe ultimately this child does need to see a mental health professional, but if you start off with that, the parents may turn in a different direction. First, you need to build on your relationship with the family to guide them to the point where they might be ready to receive and act on a mental health referral."
Finding a culturally competent mental health professional can be challenging, particularly in light of the cultural and linguistic diversity of AAPI people. However, Dr. Chen pointed out that the dramatic rise in telehealth opportunities has made it easier to find a provider who, for example, speaks the family's native language.
RESOURCES
Dr. Chen recommended several resources you can share with patients and families. Some sites also offer professional resources you can use to hone your own knowledge and skills.
Also, May is Asian American and Pacific Islander Heritage Month! Celebrate and learn with AAPI resources from the Federal Asian Pacific American Council.