Getting smarter about child mental health
June 12, 2018
The REACH Institute

"Just last week I saw a little boy – he was small for his age, which was 7," said Rachel Lynch, MD, a pediatrician and instructor at Mayo Clinic and a teacher in the REACH course Patient-Centered Mental Health in Pediatric Primary Care (PPP).
When Dr. Lynch saw this patient last month, she diagnosed ADHD, initiated medication treatment with long-acting Ritalin, and talked with the parents about behavioral supports at home and at school.
"So now he comes back, and he has gone up a whole reading level at school in a month. His teachers are giving good feedback, the parents are thrilled – and the little guy is happy."
It's a great success story. But Lynch notes that many cases aren't this simple.
"It's not typical that it takes just one shot to get the right medication at the right dose," she says. She uses protocols like those offered in the REACH training to proceed systematically through the process of finding the right type and dose of medication combined with behavioral interventions.
"After I finished my pediatric residency, I was seeing a lot of patients with ADHD," says Lynch. "But I didn't have enough of the training to help them the way they needed." When she moved from a community health center to the Mayo Clinic, Lynch became part of a multidisciplinary group determining how to provide the best care for patients with ADHD. "I figured, 'if I hang out with people who are smart about ADHD, I will get smarter about ADHD!'" she says.
As she "got smarter," Lynch realized that a big part of diagnosing ADHD was differentiating it from other conditions, including anxiety and depression. "Especially with teens," Lynch observes, "depression and substance abuse are problems we need to be looking for." Another issue is undiagnosed learning disabilities. "They could cope when school work was easier, but, as the academic load increases, now they just can't," says Lynch. "Also, let's face it, a lot of kids and teens just don't get enough sleep. Part of managing their health is helping them manage their busy schedules."
The key, says Lynch, is to have "a system for getting the information you need to make a diagnosis." Complex cases may require consultation with a mental health professional, Lynch acknowledges.
"But for these straightforward cases, when you can identify uncomplicated ADHD in patients without co-occuring depression from anxiety—well, everyone in primary care should be able to do this."
Of course Lynch's experience goes deeper. She has been identified at Mayo as a consultant on ADHD cases, and she provides training, including through REACH, for other pediatric primary care providers. She says she has "learned so much" from working with REACH, including the monthly follow-up phone sessions in which PPP cohort members share cases. "Even though now I'm one of the providers supervising those calls, I'm still learning from every case."
---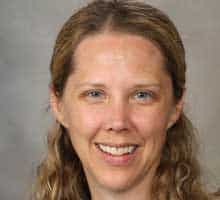 Dr. Rachel Lynch has been a member of The REACH Institute's national teaching faculty since 2012 and a member of the Patient-Centered Mental Health in Primary Pediatric Case advisory committee since 2013. She is an instructor of pediatrics at Mayo Clinic College of Medicine and an advisor to pediatric residents.